Shane Keisel, the Utah Jazz fan that allegedly made racial taunts toward Oklahoma Thunder player Russell Westbrook, was permanently banned from Vivint Smart Home Arena in Salt Lake City. Westbrook, who has a history with Utah Jazz fans, was fined $25,000.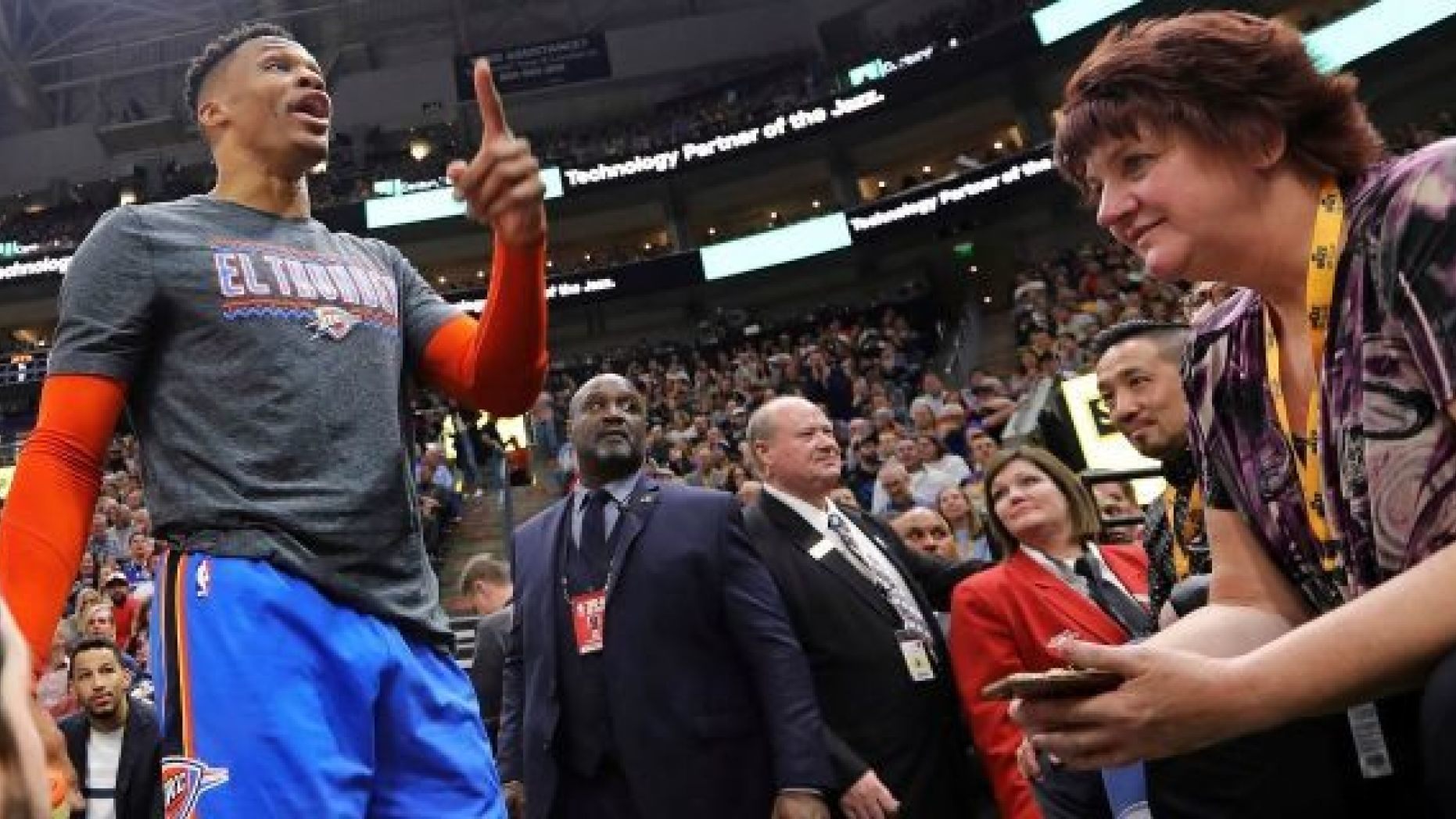 Part of the incident, which occurred during the Thunder's 98-89 victory on Monday night, was captured on video and posted on social media. In the clip, Westbrook is heard threatening Keisel and his wife.
"I'm going to tell you one thing: I'll f— him up if he says that s— again. I promise you," Westbrook said to a security guard behind the bench at the beginning of the video posted to Twitter. Westbrook then looks toward Keisel. "I promise you. You think I'm playing. I swear to God, I swear to God, I'll f— you up. You and your wife, I'll f— you up."
The threat was in response to a comment the 45-year-old fan said. Westbrook said Keisel told him to "get down on your knees like you're used to."
Westbrook's teammate Raymond Felton said he also heard the taunt. After the game the Jazz put out a statement stating they had banned Keisel.
''The Utah Jazz will not tolerate fans who act inappropriately,'' the statement read. ''There is no place in our game for personal attacks or disrespect.''
Situation Escalates Quickly
Keisel, and four other fans had been issued warning cards by security during the game for inappropriate behavior. Keisel maintains he did not say the racially charged statement, instead insisting he said "ice your knees."
After the verbal exchange, Westbrook said he did not regret what he said to Keisel, or his wife.
"For me, I'm just not going to continue to take disrespect for my family," Westbrook said. "I just think there's got to be something done. There's got to be some consequences for those type of people that come to the game just to say and do whatever they want to say. I don't think it's fair to the players — not just to me, but I don't think it's fair to the players. And if I had to do it again, I would say the same exact thing, because I truly will stand up for myself, for my family, for my kids, for my wife, for my mom, for my dad every single time."
"He just went nuts," Keisel told ESPN. "She never got up. She never stood up. She never said a word to him. I mean, it's all fine, we're having fun and games with the guy and we're talking, but at the end of the day, no man should threaten a woman, period. I'm not afraid of the guy. Come on up. But when you threaten a woman that's 5 feet tall and 110 pounds, you're a big man. So this guy needs to be exposed."
Keisel said he is exploring a lawsuit against Westbrook.
Previous Problems
This is not the first time Westbrook has had a run in with a Utah Jazz fan. Last year in the playoffs he slapped the cellphone out of a fan's hand at the end of the game. That came after he had snapped at another fan as he exited the court at halftime.
"I didn't confront fans; fans confronted me," Westbrook said after the April game. "Here in Utah, man, a lot of disrespectful, vulgar things are said to the players here with these fans. It's truly disrespectful. Talk about your families, your kids. It's truly disrespectful to the game, man."