Philadelphia Phillies centerfielder Bryce Harper left Friday's spring training game early after he was hit in the ankle by Toronto Blue Jays pitcher Trent Thornton, and irate fans hopped on social media to send Thornton death threats on Twitter.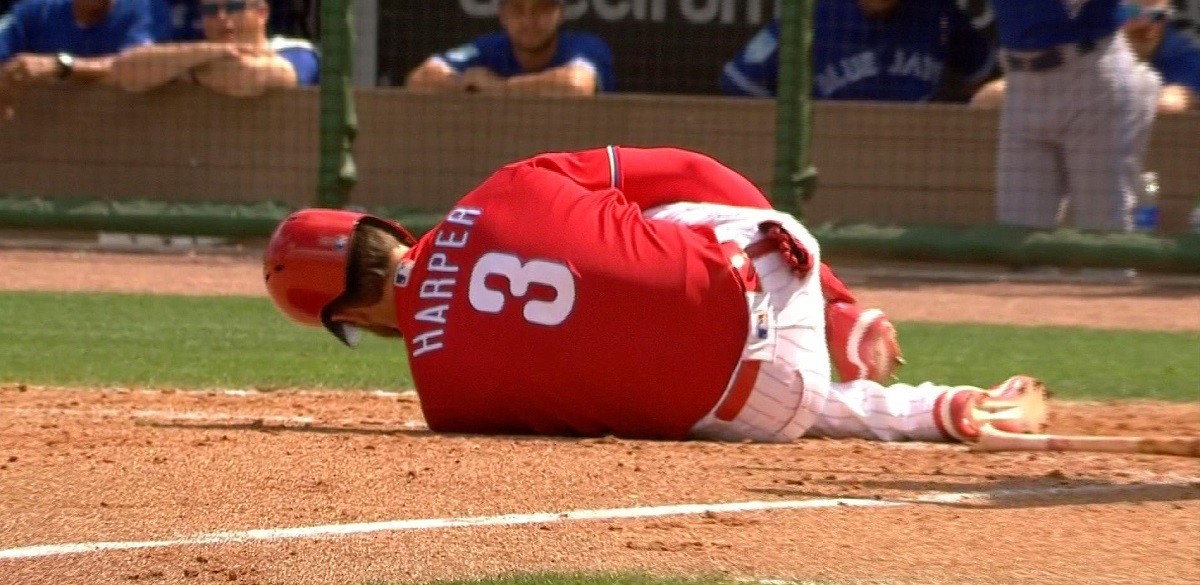 Thornton threw a 96 mph fastball that got away from him and nailed Harper in the ankle. Harper fell to the ground and did not get up right away. Harper left the game and x-rays were negative. The medical staff diagnosed him with a foot contusion and he's listed as day-to-day.
After the game, Phillies manager Gabe Kapler told reporters, "We are confident he is going to be alright. Not overly concerned right now."
After waiting all winter to find a new team, Harper recently signed a 13-year contract worth $330 million. The 26-year old star stated he wanted to remain in the same city for the remainder of his career.
Harper hit .298 with 34 home runs and 100 RBI last season with the Washington Nationals. In seven seasons in Washington, Harper hit 184 homers and boasts a career .279 average.
Ouch.

Bryce Harper exits today's game after being hit in his right ankle. pic.twitter.com/RIZHGluHQM

— NBC Sports Philadelphia (@NBCSPhilly) March 15, 2019
Unintentional HBP
Harper had only ten plate appearances in limited action with his new team this spring. He had yet to get a hit with a 0-for-5 clip.
Trent Thornton, 25, pitched in the minor leagues with the Houston Astros organization last year. Thornton played his collegiate ball with the North Carolina Tar Heels before the Astros drafted him in the fifth round of the 2015 draft. Over the last two seasons in AAA, Thornton had a 17-12 record with the Fresno Grizzlies.
The rookie is trying to make his first major-league roster after the Astros traded him to the Toronto Blue Jays.
"Crap," said Thornton. "You know, I didn't mean to do that. It's spring training. Everybody's shaking all the rust off, and stuff. Look at my seasons. I typically don't hit many guys."
Thornton hit only 10 batters over two seasons in Fresno.
"I can see how people get upset, of course," said Blue Jays manager Charlie Montoyo. "Harper's a star. The kid's not going to hit him, for sure. There's no reason to. There's no history."
Fanatical Fans
Philadelphia sports fans are loyal, tough, and a little bit crazy. These are the same frenzied Eagles fans that threw snow balls Santa Claus, cheered when the Dallas Cowboys WR Michael Irvin was almost paralyzed in a game, threw beer bottles at Ryan Howard, and tried to fight old-school hockey brawler Tie Domi in a penalty box.
It's not a big surprise that rambunctious fans sent a rookie pitcher death threats for accidentally plunking their new star.
Phillies manager Gabe Kapler downplayed the injury. "No concerns about missing Opening Day at this point," said Kapler.
"There's no nothing," said Montoyo. "Hopefully those people that are sending Thornton messages stop because it wasn't on purpose at all and everybody knows it."
So much for the City of Brotherly Love. The civility only extends as far as not hitting your newly acquired $330 million franchise player. The Phillies are 12/1 odds to win the 2019 World Series according to the South Point Casino and Sports Book in Las Vegas.