Toronto, Canada is about to be invaded by the biggest names in wrestling as the city hosts 2019 WWE SummerSlam with ten total matches and six title bouts including WWE RAW Women's Championship bout between champion Becky Lynch vs. Natalya, Brock Lesnar vs. Seth Rollins for the WWE Universal belt, and Kofi Kingston vs. Randy Orton for the WWE Championship.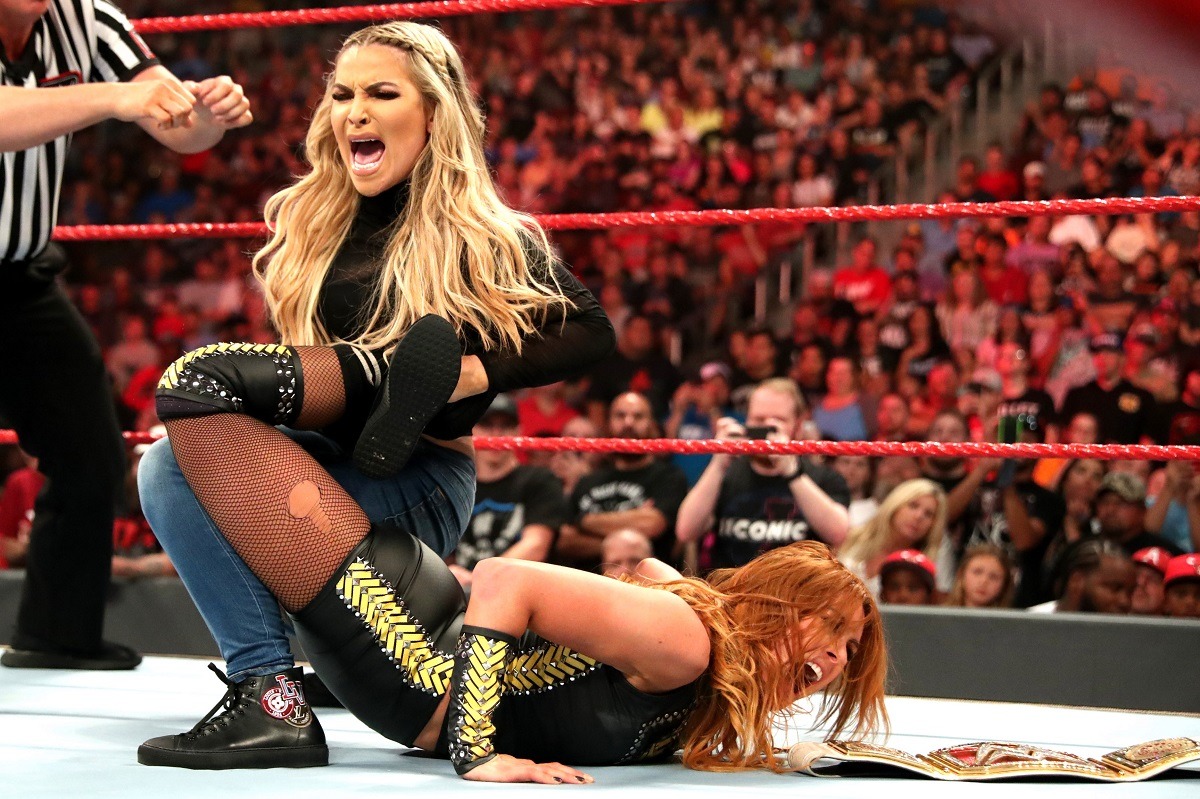 WWE Summer Slam takes place Sunday, August 11 at 7pm ET at ScotiaBank Arena in downtown Toronto. Random events and festivities will occur all weekend. SummerSlam concludes with Monday Night Raw and SmackDown LIVE on Tuesday, both hosted at ScotiaBank Arena.
Probably the biggest drama of 2019 Summer Slam involves the spat between Shane McMahon and Kevin Owens. McMahon wrestles Owens and if Owens loses, he will quit WWE for good. The stakes are super high for that non-title bout.
2019 WWE SUMMER SLAM MATCHES
Universal Championship: Brock Lesnar* vs. Seth Rollins
Championship: Kofi Kingston* vs. Randy Orton
RAW Women's Championship: Becky Lynch* vs. Natalya
SmackDown Women's Championship: Bayley* vs. Ember Moon
US Championship: AJ Styles* vs. Ricochet
Cruiserweight Championship: Drew Gulak* vs. Oney Lorcan
Shane McMahon vs. Kevin Owens
Trish Stratus vs. Charlotte
Bray Wyatt vs. Finn Balor
Goldberg vs. Dolph Ziggler

* denotes champion
The WWE has taken over Toronto as we speak. SummerSlam features events all over the city. WWE SummerSlam will be appearing at the Blue Jays batting practice for their Thursday night game against the New York Yankees.
WWE also hosts a SummerSlam Meet & Greet at the Convention Center on Friday. No word on whether there will be any special tributes to ex-WWF star King King Bundy.
Lesnar vs. Rollins and Kingston vs. Orton
SummerSlam features two huge title matches. Seth Rollins is challenging Brock Lesnar for the WWE Universal Championship belt. The belt swapped hands twice already. Can former mixes martial artist Brock keep it or will Rollins regain his title? Lesnar is -200 to keep his title, while Rollins is +150 to win it back.
In the overall WWE Championship, Kofi Kingston defends his belt against Randy Orton. Kingston won the title at WrestleMania and no one has knocked him off since then. Orton and Kingston want to settle an old rift from ten years earlier. Kingston is the favorite at -200 to win, while Orton is +150 to pull off the upset.
The match everyone is talking about is Shane McMahon versus Kevin Owens. They had a beef about screen time. McMahon wanted to toss Owens from the WWE for good. They decided to settle their differences in the ring. If Owens loses, he's dunzo forever from the WWE.
Owens is the huge favorite at -400 to win and stay in the WWE. McMahon is +250 under dog that he'll win and Owens will be gone for good.
Women's Champion Action: Becky vs. Natty
In the RAW Women's Championship, defending champion Becky Lynch will fend off Natalya. Becky Lynch is the new "IT Girl" in the WWE. She's quickly become a fan favorite after she beat Rhona Rousey. She also defeated both Charlotte Flair and defeated Lacey Evans for the RAW title.
Becky Lynch is -300 odds to retain her title against Natalya, who won a four-women elimination match to get a title shot. Backstage, Natty put Lynch in her family's patented move, the sharpshooter. That's when the two decided to have this match determined by a submission only and not by a pin.
Natty is on home turf. She comes from a long line of Canadian wrestlers. What would be more fitting than a title victory on her own soil? Natalya is +200 odds to pull off the upset.
The WWE SmackDown Women's Championship between current champ Bayley and Ember Moon. This bout doesn't have the same bite as the Natty/Becky match.
Meanwhile, in one of the other undercard matches, Trish Stratus battles Charlotte Flair. Stratus is a Hall of Famer and a resident of Toronto. She's coming out of semi-retirement to fight Ric Flair's daughter Charlotte.