Even though Steph Curry scored a career-high 47 points, it was not enough to overcome the absence of starters Kevin Durant and Klay Thompson, as the Golden State Warriors lose Game 3 at home in Oakland to the Toronto Raptors 123-109. The Warriors are now down 2-1 in the NBA Finals.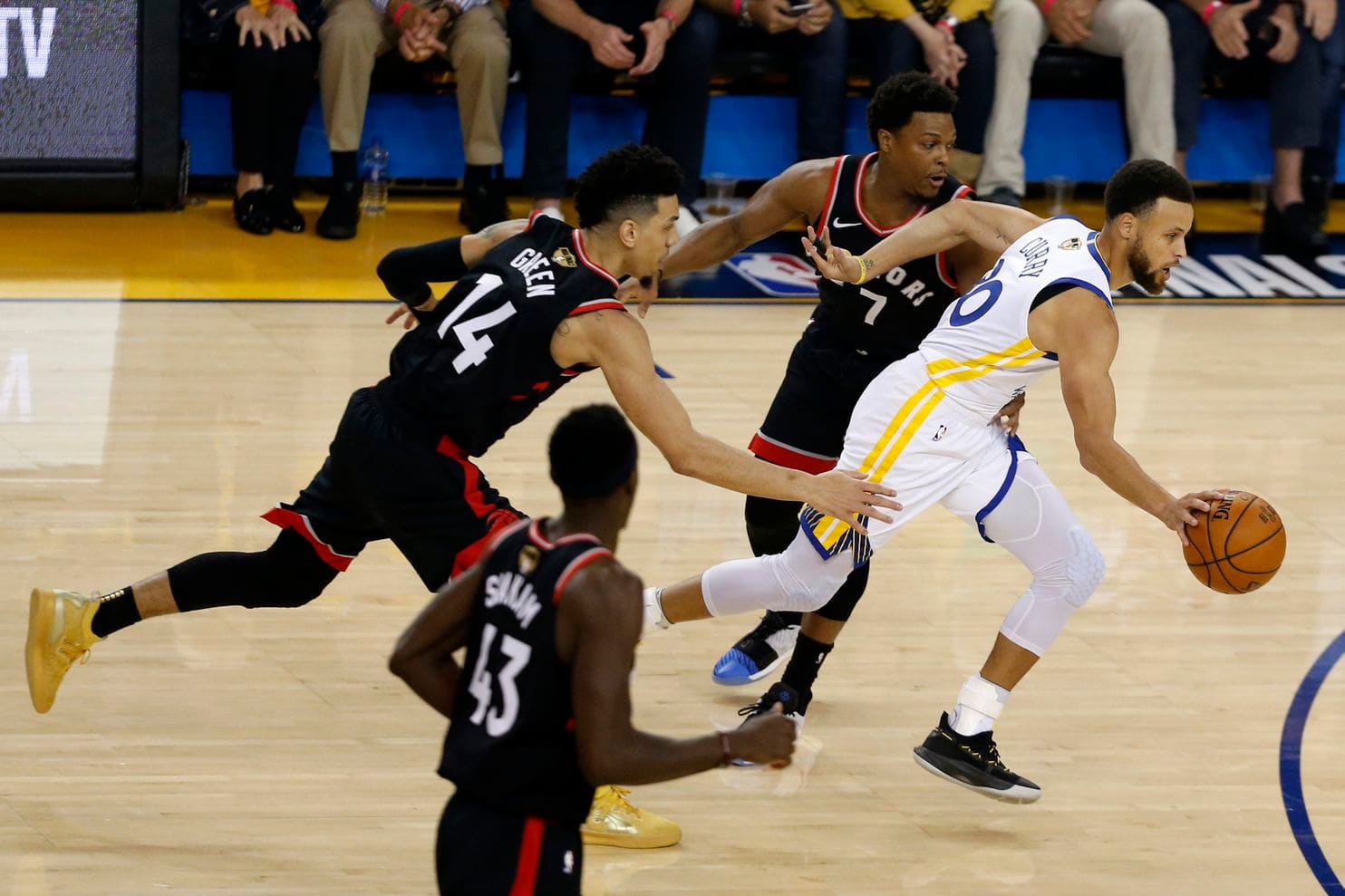 Kawhi Leonard scored 30 points and Kyle Lowry added 23 points and 9 assists in the victory for the Raptors.
The rest of the starters scored in double digits with Pascal Siakam leading the way with 18 points, 9 rebounds, and 6 assists.
Danny Green stepped up with one of his better performances in the postseason with 18 points, all of which generated by three-pointers with a 6-for-10 clip from downtown.
"We fought, but we lost," said Steph Curry after the game.
Wounded Warriors
The Warriors were short on firepower without sharpshooter Klay Thompson and leading scorer Kevin Durant in the lineup. Backup center Kevon Looney, who go extra minutes when Kevin Durant went down in the Western semifinals, is out indefinitely with a fracture near his ribcage.
Thompson tweaked his hamstring in the fourth quarter of Game 2. He wanted to play in Game 3, but the Warriors medical staff held him out.
"The whole point was to not risk a bigger injury that would keep him out of the rest of the series," said Warriors head coach Steve Kerr. "So that was the decision we made, and I feel very comfortable with it. Never would have forgiven myself if I played him tonight and he had gotten hurt
After the loss in Game 3, it's safe to say that both Durant and Thompson want to play in Game 4. Thompson seems highly likely, but Durant is still a question mark.
Curry set a playoff high as a one-man wrecking crew with 47 points including 13-for-14 from the free throw line and a 6-for-14 clip from beyond the arc.
"That boy is crazy," said teammate Quinn Cook. "He got some s–t in his bag. Double-teamed every play and he put on a show."
Curry also led the Warriors with 8 rebounds, 7 assists, and 2 steals. He played 43 minutes overall and 22 in the second half. He missed the final two, which were essentially garbage time as both coaches emptied their benches with the game out of reach.
"Tonight was a special performance for him," said teammate Draymond Green. "He definitely does stuff that I don't think we have ever seen anyone ever do, and we probably won't see anyone ever do it again."
Raptors Head Start
Raptors jumped out to a 7-point lead in the first quarter. They were ahead as much as 13 in the second quarter.
Curry dropped 25 points in the first half. Despite a low-scoring half from Boogie Cousins and Andre Iguodala (6 combined points), the Warriors cut the lead to 8 points by halftime 60-52.
In the first half, the Raptors were led by Kyle Lowry's 15 points and Pascal Siakam's 14 points.
In the second half, the Warriors could never get enough traction to make a run. Aside form Curry, no one could consistently score against the Raptors.
"We could never get over the hump," said Steve Kerr. "Every time we fought back and got it to six or seven they made big shots. They outplayed us."
The Raptors extended the lead to ten points at the end of the third quarter. Curry only scored 7 points in the final quarter and the Warriors couldn't get the job done with Curry and a bunch of no names.
Heading into Game 4, the Warriors opened as 5.5-point favorites. Klay Thompson is expected to play, but Kevin Durant's status is still unknown. Down 2-1 with potentially one final game at Oracle Arena, it's do or die for the Warriors.