Team USA begins training camp next week for the 2019 FIBA World Cup and head coach Gregg Popovich has to narrow down the roster to 12 players. The FIBA World Cup begins at the end of August in China and runs through mid September with 32 national teams competing for basketball supremacy.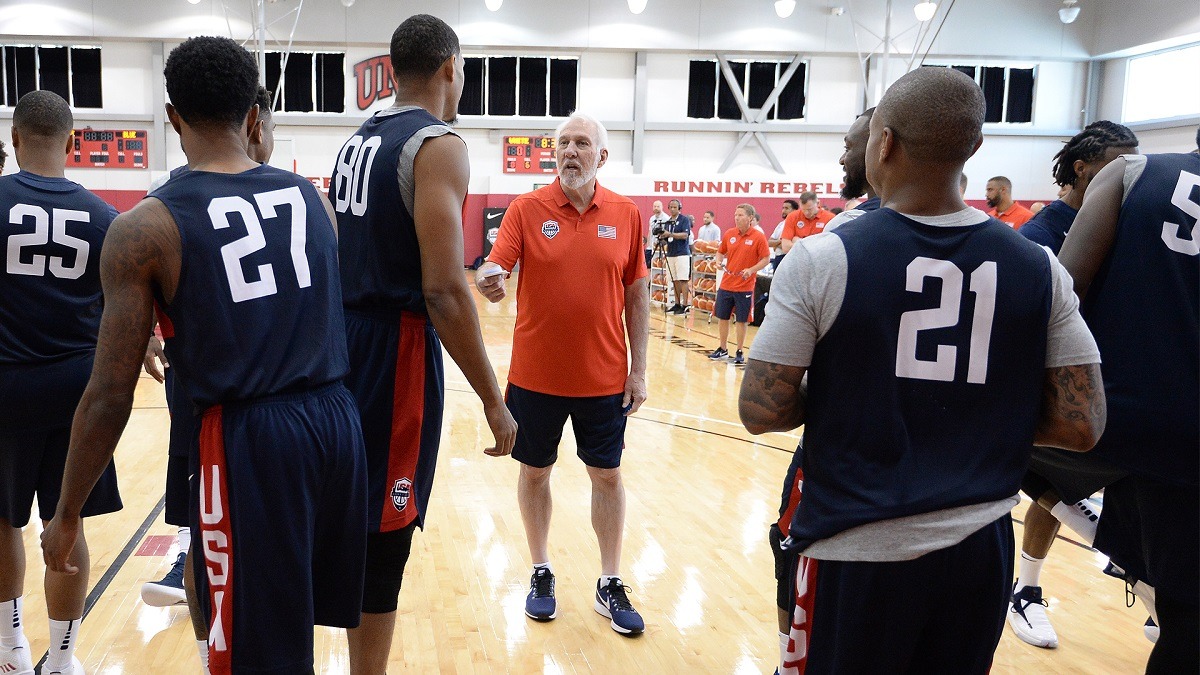 Team USA is seeking a three-peat in the FIBA World Cup. Gregg Popovich, who won multiple titles with the San Antonio Spurs, is the head coach of Team USA. His assistant coaches include Steve Kerr (Golden State), Lloyd Pierce (Atlanta), and Jay Wright (Villanova).
"We've got an excellent cross-section of veteran USA Basketball and NBA players, as well as some exciting younger players who possess amazing versatility," said Popovich.
TEAM USA ROSTER
Harrison Barnes (Sacramento)
Kyle Kuzma (LA Lakers)
Brook Lopez (Milwaukee)
Kyle Lowry (Toronto)
Khris Middleton (Milwaukee)
Donovan Mitchell (Utah)
Jayson Tatum (Boston)
PJ Tucker (Houston)
Myles Turner (Indiana)
Kemba Walker (Boston)
Jaylen Brown (Boston)
Montrezl Harrell (LA Clippers)
Mason Plumlee (Denver)
Julius Randle (New York)
Marcus Smart (Boston)
Thaddeus Young (Chicago)
Pops currently has 16 players on the Team USA roster and must cut four before the FIBA World Cup.
"Selecting a 12-man team will be extremely difficult," added Popovich. "I look forward to working with all of the players, representing the United States and doing so in a manner that all Americans will hopefully rally behind."
Noteworthy pros such as Kevin Durant, Paul George, Russell Westbrook, Kawhi Leonard, and LeBron James were also sitting the FIBA World Cup out.
Sitting Out and Six More In
Several notable players withdrew their names from the Team USA roster. They were either nursing injuries or still recovering from a grueling postseason or stepped aside for personal reasons. That withdrawn list includes Bradley Beal (Washington), Anthony Davis (LA Lakers), Andre Drummond (Detroit), Eric Gordon (Houston Rockets), James Harden (Houston Rockets), Damian Lillard (Portland), Kevin Love (Cleveland), CJ McCollum (Portland), and Paul Millsap (Denver).
Team USA added six players to fill in the gaps from recent withdrawals. All of them have some prior experience with Team USA. The new additions included Jaylen Brown (Boston), Montrezl Harrell (LA Clippers), Mason Plumlee (Denver), Julius Randle (New York), Marcus Smart (Boston) and Thaddeus Young (Chicago).
"The six players we added today are all outstanding players in their own right,"said Team USA President Jerry Colangelo. "Along with the other players who will attend the World Cup Team training camp, will offer Coach Popovich and his staff some remarkable athleticism and versatility."
The Select Team
The Select Team is probably one of the greatest practiced squads ever assembled. However, role is to help Team USA prepare for the World Cup. They will be coached by Jeff Van Gundy and Gonzaga head coach Mark Few. Furthermore, will also play Team USA in various color-coordinated scrimmages.
"The purpose of the Select Team is to help prepare our National Team for the World Cup and to offer an opportunity for some younger NBA standouts to be involved in the USA Basketball National Team program," said Colangelo. "These 13 players help extend the legacy of elite players who have been part of USA Basketball Select teams. It will also provide them with valuable experience at the USA Basketball National Team level."
The Select Team is loaded with young talent including four top rookies from last season. Marvin Bagley III and Trae Young were NBA All-Rookie first team members.
The squad on Select includes Jarrett Allen (Brooklyn), Marvin Bagley (Sacramento), Mikal Bridges (Phoenix), Jalen Brunson (Dallas), John Collins (Atlanta), Pat Connaughton (Milwaukee), De'Aaron Fox (Sacramento), Joe Harris (Brooklyn), Jonathan Isaac (Orlando), Mitchell Robinson (New York), Landry Shamet (LA Clippers), Derrick White (San Antonio), and Trae Young (Atlanta).