While 11 other drivers are worried about making the Round of Eight in the NASCAR Cup Series playoffs in two weeks, Chase Elliott can relax on Sunday at the 1000Bulbs.com 500. That doesn't mean he will, however.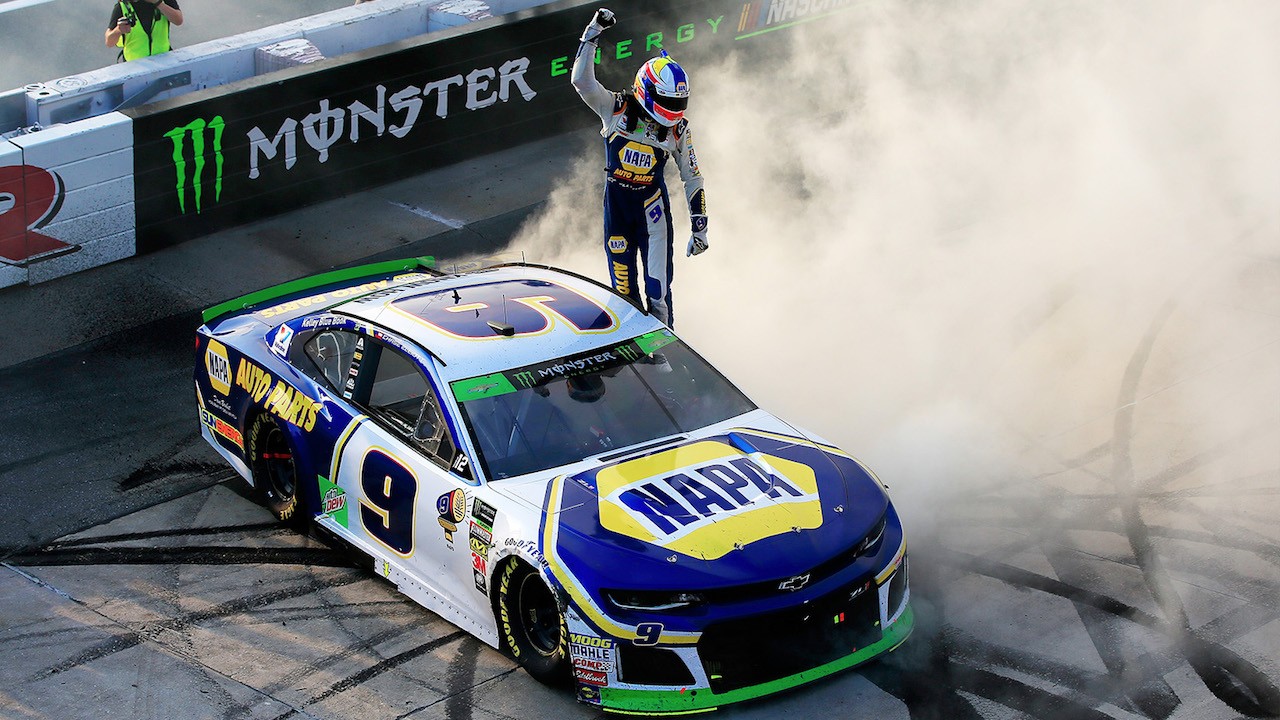 In stock car racing's version of Survivor, Elliot earned his immunity card last week when he won at Dover. Having secured an automatic berth to the round of eight, he's not the favorite to win at the Talladega Superspeedway this weekend. That honor goes to Brad Keselowki at 6/1, who's followed by Joey Logano at 7/1.
Elliot, the son of NASCAR Hall of Famer Bill Elliot is still expected to be a real contender though, and is laying bettors 10/1 odds.
"I think it's nice to be able to know you're going to move on, but you can't get complacent in the fact that you are moving on," Elliot said. "You can't let those points just sit out there and not try to go get them because those bonus points you get for winning or winning a stage, that's huge, and you need as many as you can get. We're going to keep the hammer down and see what we can do."
Restrictor Plates Tighten Field
Talladega is one of two tracks (Daytona being the other) that have required restrictor plates on cars. The aluminum square with four holes in it installed between the carburetor and intake manifold limits horsepower and speed for safety, but has the effect of bunching drivers together, which could lead to more crashes, but also make it a race that anyone can win.
At the Geico 500 earlier this year, also at Talladega, Logano took the checkered flag.
Logano and Keselowski have been dominate at the iconic track, taking six of the last eight races there. Keselowski told USA Today Sports that luck plays a big role there.
"You can study, you can research, you can have the fastest car, you can do all the right things," Keselowski said, "but if you don't survive, if you find yourself in the wrong place at the wrong time, none of that matters."
Big Three Objective: Don't Crash
For one of the first times this season the Big Three of Kevin Harvick, Martin Truex Jr., and Kyle Busch are not favored to win a race. Harvick has the best odd of the trio at 12/1. Busch is at 15/1, and Truex is all the way down at 25/1.
The track is the main reason for the low odds for the three. For the three who are in good position to advance, this race is more about not wrecking, than winning.
"It's such a wacky, wild-card race," Truex said. "We tried all different strategies and it seems like it doesn't make a difference. What you need is a lot of luck there. If you can avoid the wrecks and have a car that can maintain its position with the lead pack you have a chance of posting a solid finish. But usually it comes down to being in the right place at the right time. We've been in the wrong place too many times recently and need to change that."