In the second full month of sports betting New Jersey sportsbooks more than doubled the amount of tickets they sold in the first month. The New Jersey Division of Gaming Enforcement (DGE) released totals today that show casinos handled $95.6 million in bets during the month of August.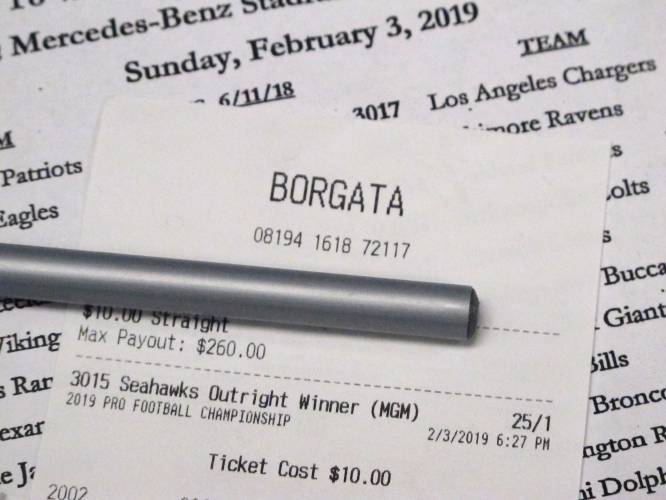 That figure surpasses the $40.6 million in bets placed during July, the first full month of legal sports betting in New Jersey.
According to DGE figures, $73.9 million was wagered at on-site facilities, and $21.7 was wagered using one of three online apps available in New Jersey. Through two full months and a portion of June, the state has handled $152.7 million in sports bets.
Everything That Dies Someday Comes Back
Not long ago Atlantic City was all but left for dead. With legalized sports betting, the gambling commissioner isn't hanging on by the skin of his teeth anymore. Officials are saying that the new market has reinvigorated Atlantic City.
David Rebuck, director of the New Jersey DGE said that emergence of sports betting has provided the state's gaming industry with "growth rates in July and August that have not been achieved in years."
"It is an exciting time for Atlantic City and we look forward to continued revenue growth going forward," Rebuck said, according to the Associated Press.
With the addition of sports betting, total gaming revenue in New Jersey was up by nearly 25 percent in August compared to the year before. Total gaming revenue during the month was $303.9 million, compared to $244.8 million in August 2017.
Blame Technology
The boost in August compared to July can be attributed, in part, to the launch of online sports betting. Resorts Casino, Borgata, and Golden Nugget debuted mobile apps in August that accounted for 22 percent of all sports bets placed in New Jersey during the month.
Resorts partnered with DraftKings and became the first to offer bettors a mobile app on August 1st, and is the only New Jersey casino to offers sports betting exclusively online, debuting the mobile app before opening an on-site sportsbook.
Borgata followed by rolling out its mobile app PlayMGM on August 22nd. Golden Nugget, in partnership with New Jersey-based SugarHouse introduced a mobile app on August 23rd.
Expect September's online totals to exceed the over $21 million wagered online in August with the addition of two more mobile apps. Earlier in the month, the Meadowlands introduced their mobile sports betting app through FanDuel, and Monmouth Park and Ocean Resorts Casino launched a William Hill app.