Golden State Warriors superstar Steph Curry may not be able to make professional golf his second job just yet, but his opening round performance at the Ellie Mae Classic showed that he might be able to hang with the pros if he put his mind to it.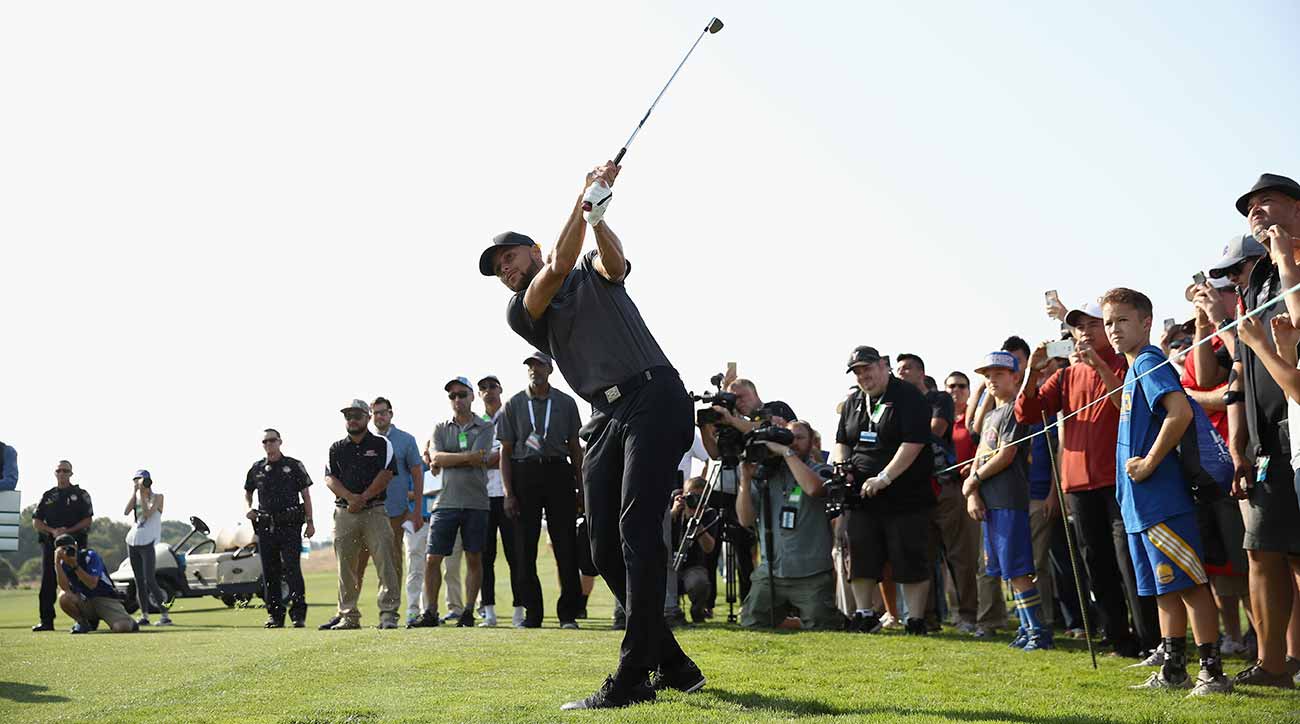 Curry shot a 1-over-par 71 in the opening round of the Web.com Tour event, putting him eight shots behind the leaders before the critical second round.
Curry Could Make the Cut?
The cut line for the tournament is expected to be 1- or 2-under par, meaning Curry would have to improve to a 68 to have a realistic chance of moving on to the weekend. Still, just being in the mix with the players on the PGA Tour's developmental circuit is a monumental achievement for an athlete that spends most of his time working on his jump shot rather than his bunker saves.
"It was impressive," said Martin Trainer, one of Curry's playing partners on Thursday. "His game as a whole was really impressive. It really surprised me. Obviously, he's not as sharp because I don't think he plays as much as we do."
Trainer, who has won twice on the Web.com Tour this year, shot a 69. Also in their group was Cameron Champ, who has a win this year and leads the tour in driving distance. Champ had the best round of the group, shooting a 68.
When the round began, it looked as though Curry was getting into serious trouble. He bogeyed four of his first seven holes and at one point was 4-over before scoring three birdies on the back nine, including two of his final three holes.
"This time, it took me until hole No. 8 or 9 to really just get comfortable, especially on the greens," Curry said after the round. "You can't simulate that pressure of standing over 10-foot putts, 5-foot putts, knowing they count, and how many of them for me were for pars early. That was a hard part to adjust to, but once you get in a groove, good things happen."
Curry Shows Improvement in Second Tour Appearance
Curry's result was a significant improvement over his performance in the tournament last year. In 2017, Curry shot a 74 in each of his two rounds. While that was still good enough to impress many of the professional golfers he competed against, he missed the cut by 11 shots, finishing in 148th place.
While Curry's solid performance is surprising, it didn't come entirely out of nowhere. The five-time NBA All-Star has a zero handicap, a very strong rating for an amateur golfer. Some estimates put the abilities of the average PGA Tour pro at five to six shots better than a scratch golfer.
Whether Curry puts together a round that allows him to make the cut or not, he'll soon be turning his attention back to his primary athletic career. The 2018-19 NBA season is set to begin on Oct. 16, with Curry's Warriors considered a 4/7 favorite to win the NBA Championship by Ladbrokes.