Kevin Harvick led 108 out of 200 laps on his way to winning the Consumers Energy 400 on Sunday at Michigan International Speedway, picking up his seventh victory of the NASCAR Cup Series season.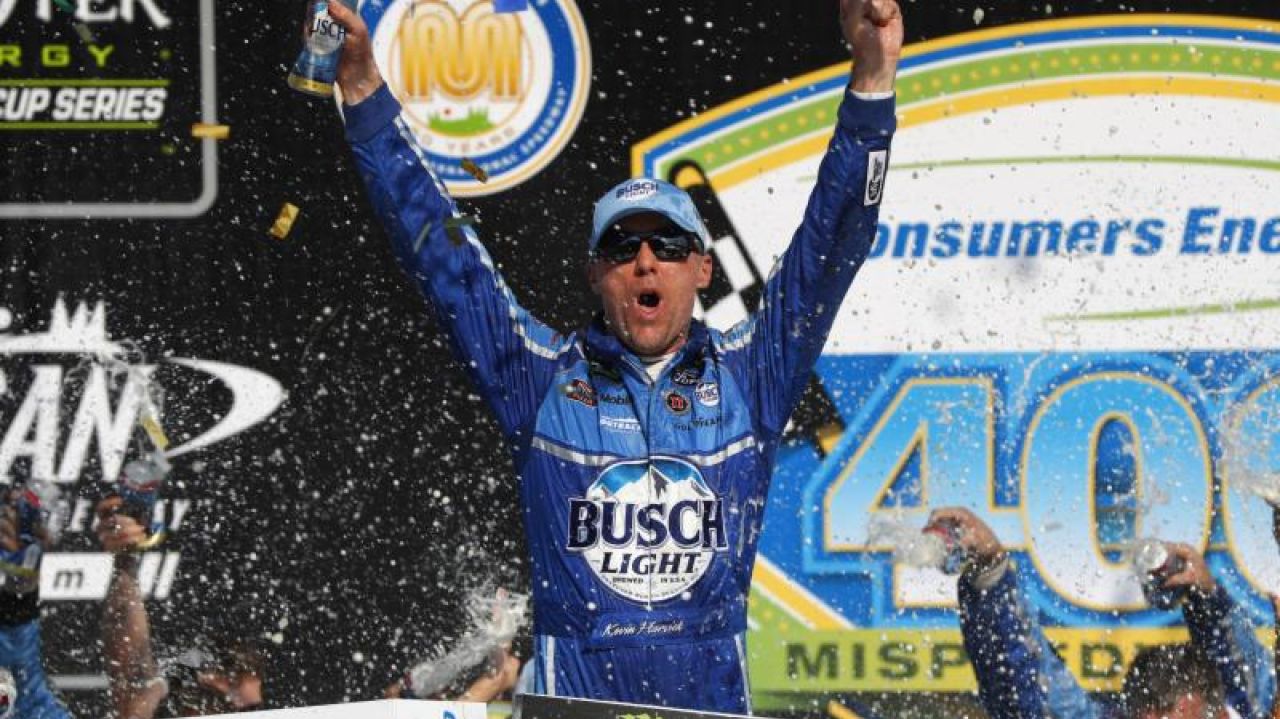 Harvick won the race by 3.233 seconds ahead of Brad Keselowski to pick up his 44th career title.
Harvick Only Concerned with Winning
It was a relatively easy victory for Harvick, who wasn't challenged late during the cleanly run race after winning both the first and second stages as well. At this point in the season, that's fine by him, as Harvick is looking to get ready for the season ending playoffs.
"The most important thing is winning races right now and getting all the points that you can get to position yourself well to get to Homestead," Harvick said after the race. "That was our only goal. We didn't want to learn anything. We don't want to do anything different. We just want to go out, and we want to win."
While Austin Dillon sat in second place for the last few laps, he suffered a cut tire on Lap 199, and while he was able to finish, he fell back to fourth place. The runner up position instead went to Brad Keselowski, who felt the clean race gave him the chance to put together a strong result.
"It's nice to be able to get the finish we deserved," Keselowski said after the race. "It's important to get what you have out of your car. Although we might not have race-winning speed, it's important to execute."
Kyle Busch took third place while leading 22 laps, with Ryan Blaney rounding out the top five behind Dillon.
Snakebitten Truex Finishes 14th
The other member of NASCAR's Big Three this season, Martin Truex Jr., finished in 14th place after leading for 25 laps. Truex was among the leaders for much of the second stage, but ran out of gas and headed to the pits while they were closed before being penalized for having an uncontrollable tire.
"Anything that could have went wrong did," Truex said after his finish. "We could've won the second stage. We just didn't have enough gas. The car was fast. We just couldn't catch a break all day."
Instead, the glory went to Harvick, who shared a moment with his six-year-old son Keelan after the race. Harvick told reporters that he had planned to let Keelan get the checkered flag the next time he won after his last victory at New Hampshire Motor Speedway. Keelan grabbed the flag from the stand, then rode in the passenger seat as Harvick celebrated with a victory lap.
"It's pretty cool to look over there on your victory lap and see your six-year-old in the passenger seat and being able to enjoy it with you," Harvick said.
While Harvick now has the most wins on the NASCAR Cup Series this season, Busch – a six-time winner himself – leads the driver standings by 62 points over his rival. Truex sits in third, having won four races this season. The rest of the NASCAR field has a total of six wins.
Harvick did take the lead in playoff points, however, which will better position him to make a run at the NASCAR Cup Series championship. Unibet now has Harvick listed as the 9/4 favorite to take the season title, just ahead of Busch (11/4) and Truex (3/1).