Manchester City clinched the English Premier League title on Sunday, after crosstown rivals Manchester United suffered a surprising loss to West Bromwich Albion on Sunday.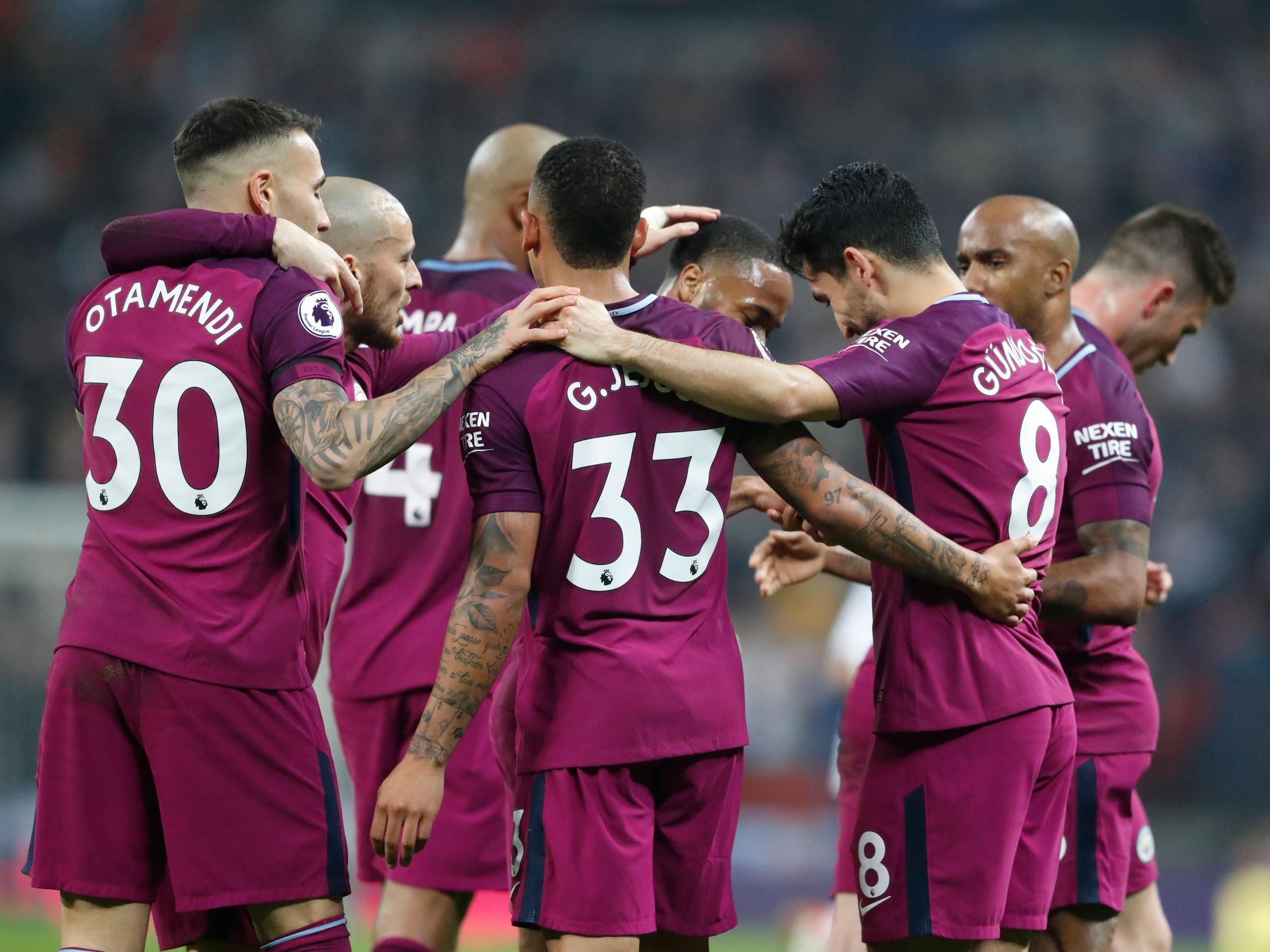 City had put themselves in position to win the league this weekend after defeating Tottenham 3-1 on Saturday. That put them 16 points ahead of Manchester United with only six matches remaining, guaranteeing City a chance to clinch the title no later than next Sunday, when they were set to host Swansea City.
But that proved unnecessary after United lost to West Brom, 1-0, at home on Sunday. That result made City's lead insurmountable with five matches and more than a month left in the season.
Long Journey for Fans
Upon realizing that they had earned the top spot in the EPL, Manchester City's players took to the Railway pub in Hale (a village near Manchester), singing team songs and taking pictures with supporters on Sunday in order to celebrate.
"It's been a f**king long journey, especially if you have been a blue for more than 40 years in your heart," City captain Vincent Kompany told fans while standing on a bench at the pub, local media reported. "But tonight, we won it again! So let's celebrate together!"
The triumph marks only the fifth English football league championship for Manchester City. However, the club is going through a period of historic success, having won the title in three of the past six years. Before this most recent run, the team's last title came in the 1967-68 season.
Man City Glory Days
This year could prove to be the most memorable championship of all for City. According to the Westgate Las Vegas SuperBook, the team was a 2/1 favorite when betting first opened for the EPL season, so the fact that they won the title isn't a shock. But the club has been incredibly dominant all season long, and has the chance to set several EPL records if they can keep their foot on the gas for the next few weeks.
Many of these records belong to Chelsea, the team that Manchester City is replacing as champions. The 2004-05 Chelsea squad set a record by earning 95 points in the Premier League. City already has 87, meaning just three victories in their last five matches would allow them to surpass that total–and even breaking the 100-point barrier isn't out of the question just yet.
City's success has come largely due to an explosive, attacking play style that has seen them score goals in bunches, and many of the records they stand to break reflect that. The 2009-10 Chelsea squad has the record for most goals in a season with 103, while City currently have 93. Should Manchester City finish the season strong, they could also beat that team's record for best goal differential: City currently has a +68 differential, while that legendary Chelsea side finished with a +71 mark.
Last year, Chelsea set a new record for most wins in a season with 30. City already has 28. With five games to play, it's probably a good bet that record also will fall.