Thousands of college basketball fans will descend on Las Vegas this week for the NCAA Tournament to make bets, but it might actually work out better for those who choose to stay at home.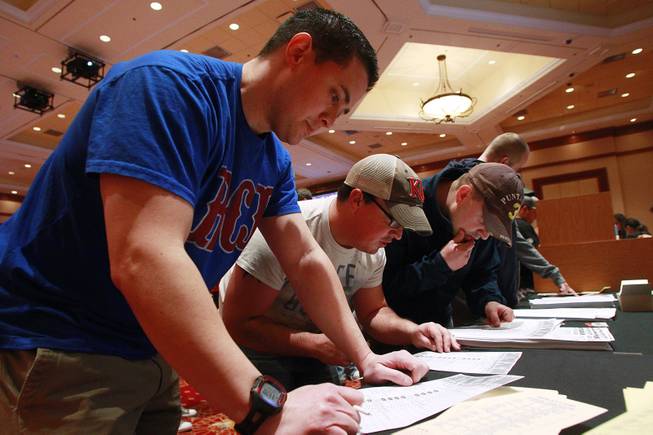 Some of the offshore sites are offering slightly advantageous propositions for online wagering for both who will win the tournament and the first round games of March Madness.
There aren't a lot of differences between the sportsbooks and the web, but looking closely can gain value for certain situations.
Winner Take All
Most noticeable are the lines for who will win the championship, especially for teams that are favored by Sin City facilities.
The Westgate LV Superbook has North Carolina as their choice to be atop the 64-team field at 5-1. Take a look at one online location and they have the Tar Heels at 6-1. There is an even bigger discrepancy with Louisville. The Cardinals are 15-1 as opposed to 17-1 on the internet. Gonzaga has been wheeled down to 9-1, where online it is 10-1.
Go a little further down the bracket and underdogs pose some good rates if people are willing to take a chance. Pundits are calling Florida State a dark horse and Westgate has them at 30-1. Check around the web and one place has them at 40-1.
This tournament is a lot more open than in the past, so taking a chance on a long shot might not be as ill-advised as in previous competitions.
Nick Bogdanovich, William Hill's director of trading told USA Today this year's tournament is different.
"(Villanova is) the defending champs and they've had a good year, but those odds show just how wide open the tournament is this year," Bogdanovich said. "I counted like 18 teams that I gave a real shot to win it. I think it's usually less than 10."
Picking Off Individual Games
There are 32 games in the first round and finding a match up that suits a strategy is relatively easy.
William Hill  has USC with a 2 ½ point edge over Providence, while most online books have them at 3. Purdue is another example of a slight gain, laying 8 ½ at Wynn as opposed to Vermont fans who get 9 points on the web.
Half-point differentials are common, but can make the difference if taking the underdog or giving away less points with a favorite. A little homework can get a gambler a slight edge and they might not even have to leave their desktop computer to do it.