The eccentric owner of the D Las Vegas Casino got crushed opening weekend, losing $109,000 in the first round of the NCAA Tournament, but Derek Stevens is betting Michigan wins the championship.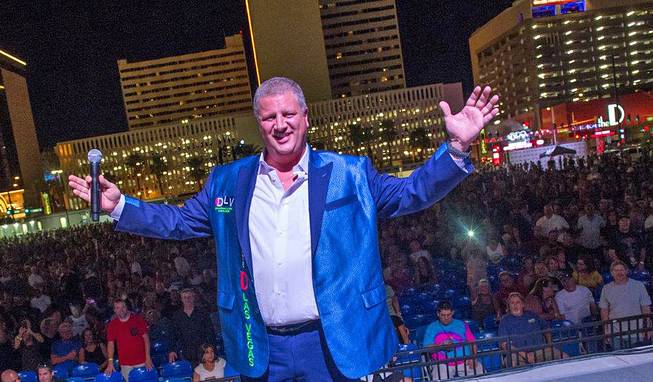 It's not so much loyalty to his alma mater, but the 80-1 odds he received for his wager on the No. 7 seeded Wolverines. Before the season they were 100-1 and he got decent odds for when he placed his bet before March Madness. After reaching the Sweet 16 they have been pegged at 18-1. Stevens bet $12,500 and could walk away with $1 million.
It is similar to a bet the former auto parts mogul made two years ago. He put down $20,000 on Michigan State to win it all at 50-1 odds. He came within two games of winning, but didn't lose his money. He shelled out $49,000 on Duke to beat MSU in the Final Four and won $20,000, covering his initial play.
Bets Bounce Bad
For this year's competition Stevens appeared at South Point Casino on the set of the Vegas Stats and Information Network show on Sirius XM radio and divulged his plan. Stevens wagered $11,000 on each of the 32 opening round games. That's $352,000 wagered for a possible maximum payout of $320,000.
But he knows more about operating a casino than sportsbetting. He took the underdog in 19 of the 32 first-round games, including Texas Southern at plus-25 against No. 1 seeded North Carolina. The Tar Heels won by 39.
His record for the first two days of the event was 10-19-3 and he lost $109,000.
Long Road for Big Blue
In order for Michigan to even reach the title game they are going to have to get past some pretty formidable foes. They play No. 3 Oregon on Thursday and are 1.5-point favorites, despite having more losses than the Ducks.
If they survive that game they would face the winner of Kansas/Purdue. Several sportsbooks have Kansas favored to win the championship. If they reached the Final Four, the Wolverines could face one of the following four schools; North Carolina, Kentucky, UCLA or Butler, all of which are seeded higher.