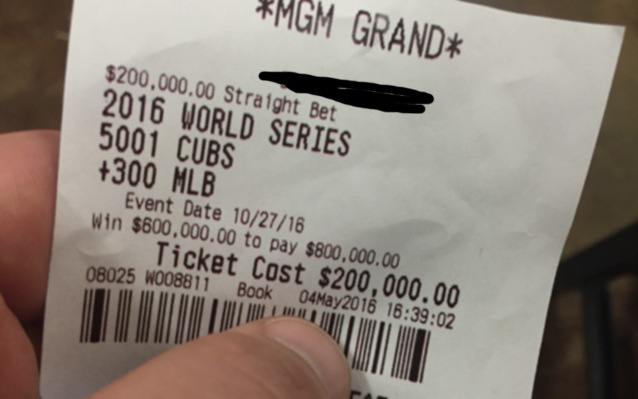 Nevada sportsbooks closed the final chapter on 2016 baseball betting last month, but only now are we learning what a riveting story the sport wrote in Las Vegas over the last 12 months.
Total baseball wagers topped $1 billion at Las Vegas and Nevada sportsbooks, the first time the sport has eclipsed that statistical threshold in the Silver State. While that is certainly promising news for Major League Baseball (MLB) as it shows the popularity of the sport is strong, it didn't necessarily translate into better earnings for oddsmakers.
In fact, total baseball win was down in 2016 despite the increase in bets.
Nevada sportsbooks won about $39 million on baseball in 2015 on an average hold of 4.4 percent. That win rate dropped 1.5 percent over the last 12 months to 2.9 percent. Through October, sportsbooks have won $30 million on baseball in 2016.
Cubs Write History Books, Wrong Sportsbooks
The Chicago Cubs' historic World Series win, the franchise's first since 1908, led to an increase in baseball bets in Nevada. The Cubs are one of the most popular teams in MLB, and often rank near the top for bets taken to win the World Series.
For decades, oddsmakers have enjoyed the benefits of the Cubs' 108-year drought. But this year, it's costing them a pretty penny.
Bookies were hoping for the Cleveland Indians, the underdogs who took a surprising 3-1 lead in the Fall Classic, to pull off the upset. But the best-of-seven instant classic went the distance, but the Tribe fell short.
Chicago celebrated, as did those who placed money on the Cubbies. The Westgate SuperBook said it took twice as much money on the Cubs than any other team to win the World Series before the regular season began.
NBA analyst and longtime Chicago fan Craig Sager, known for his outlandish jackets, has bet $1,000 on the Cubs to win the World Series every year since 1981. Though he didn't recoup his $35,000 lost over the decades, he did receive a marginal payday, as the preseason odds on the Cubs were 4-1 to win the title.
Online Books Hit Hardest
Sports betting is restricted in the US to Nevada, Oregon, Montana, and Delaware, though only the Silver State actually uses its exemption from the Professional and Amateur Sports Protection Act of 1992 (PASPA).
That's why of the estimated $150 billion worth of sports bets placed in the US each year, only a fraction of one percent are wagered through legal outlets. The vast majority are bet on offshore websites or underground networks.
Some of the commissioners from the Big Four, most notably NBA Commissioner Adam Silver, are ready to embrace legalized sports betting and repeal PASPA. The American Gaming Association (AGA) believes the 45th president of the United States is the man for the job.
"As President-elect Donald Trump has acknowledged, illegal sports betting is a thriving industry," AGA President Geoff Freeman said last month. "The 24-year-old federal ban threatens the integrity of games, presents fundamental questions about states' sovereignty to define their own laws and combat crime within their borders, and prevents fans from engaging with the sports they enjoy."