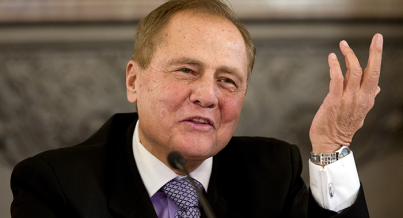 New York daily fantasy sports (DFS) is inching closer to becoming law, or at the very least reaching the state Senate floor. State Senator John Bonacic's (R-District 42) Senate Bill S6793A passed the New York Senate Racing, Gaming and Wagering Committee by a 6-1 vote on June 1, moving the legislation that would legalize DFS to the State Senate Finance Committee for additional consideration.
Should the Finance Committee vote in favor of S6793A, the bill would then transfer to the actual Senate.
Bonacic's proposition would require all DFS companies that operate in New York to pay a one-time fee "of the lesser of $500,000 or five percent" of their gross revenue generated in the Empire State over the previous 12 months.
Of course, some sort of amendment to that language is required after New York State Attorney General Eric Schneiderman forced DraftKings and FanDuel out of his jurisdiction in March.
Operators under S6793A would pay 15 percent tax on their gross DFS revenues.
"Interactive fantasy sports in many instances have been defined as a game of skill and were exempted from the definition of unlawful Internet gambling under the Unlawful Internet Gambling Enforcement Act of 2006 (UIGEA)," Bonacic says in the bill. "Interactive fantasy sports contests do not fall under the definition of gambling . . . the Internet has become an integral part of society, and interactive fantasy sports a major form of entertainment for many consumers."
Schneiderman v. DFS
Schneiderman is to daily fantasy sports as Sheldon Adelson is to general online gambling. The leading legal authority for the state's nearly 20 million residents, Schneiderman differs from Bonacic's belief that DFS isn't gambling and therefore exempt from UIGEA.
"In 2006, of course, the technology for DraftKings and FanDuel didn't exist," Schneiderman told PBS "Frontline" in February. "This is just a new version of Internet gambling, more in common with Internet poker than with traditional fantasy sports leagues."
DraftKings and FanDuel reached an agreement with the attorney general to cease and desist operations in exchange for Schneiderman pausing any legal action against their companies until at least September.
In the meantime, DFS companies are hoping the state legislature can pass new laws to protect the industry.
Opposition Mounting
Along with the New York Gaming Association, an organization that advocates on behalf of the state's horse racetracks, a coalition of opposition seems to be growing in the Empire State.
The New York Daily News, one of the most circulated newspapers in both New York and the US, wrote a scathing op-ed on May 31 denouncing daily fantasy contests.
"To get around the element of chance . . . Sen. John Bonacic declares: 'As games of skill, interactive fantasy sports contests do not fall under the definition of gambling as prohibited by the Penal Law.' This may seem innocuous, except it makes a mockery of the law as written and opens the door for other games of mixed skill and chance, such as poker, to claim a similar exemption," the New York Daily News' editorial staff opined.
Just seven Senate session days remain for the 2016 legislative year, meaning time is running out for DraftKings and FanDuel, and Schneiderman is licking his chops.