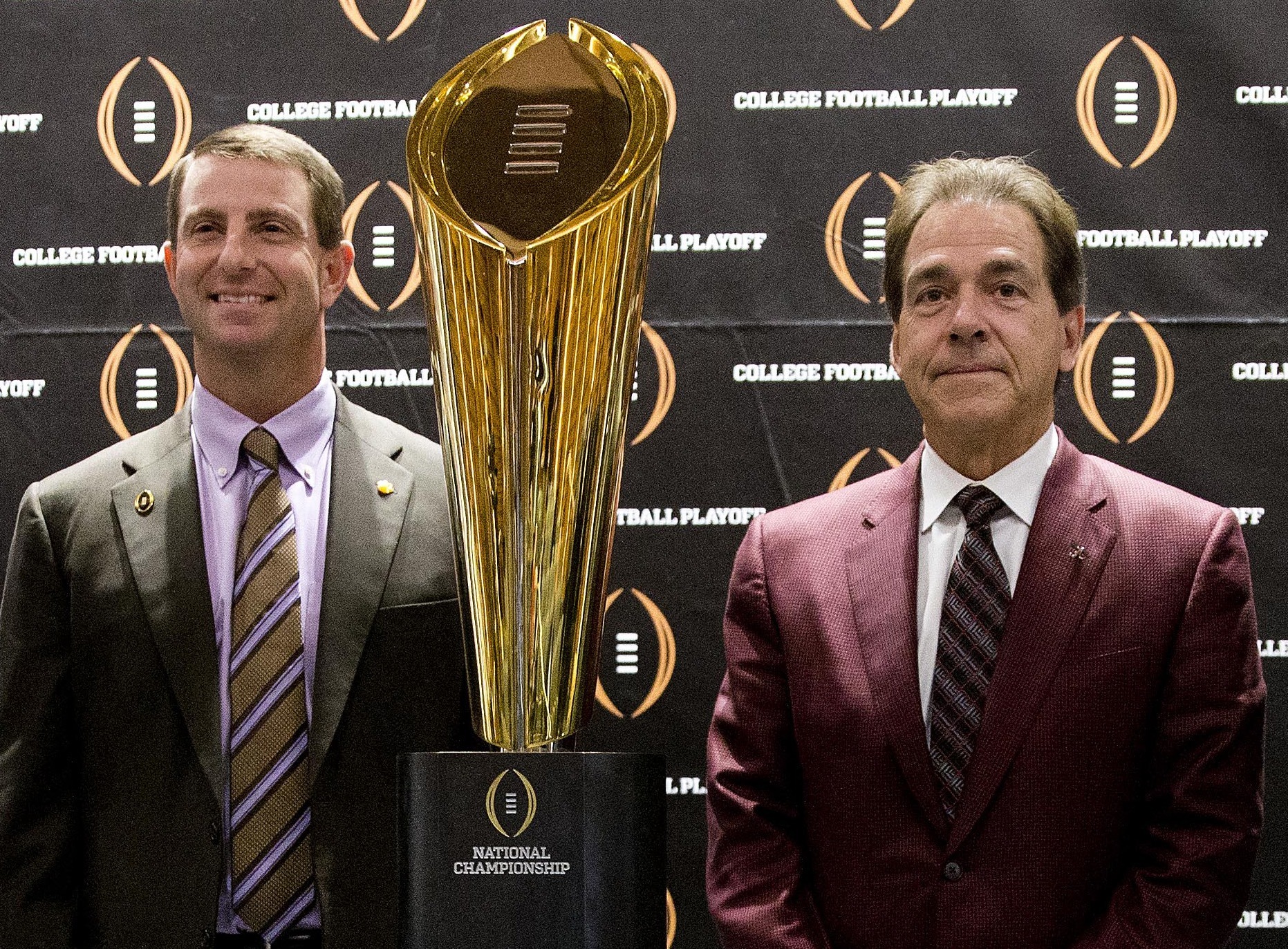 The Clemson Tigers and Alabama Crimson Tide will duel for the National Championship on January 11 in Glendale, Arizona.
The top-ranked Tigers are a perfect 14-0 on the year and haven't lost a game since November 15, 2014.
They still aren't favored to win the College Football Playoff (CFP) National Championship Trophy.
Second-ranked Alabama comes to University of Phoenix Stadium in search of its fourth NCAA title in seven years.
Led by legendary coach Nick Saban, the Tide narrowly missed out on playing in the championship game last year when it lost by a touchdown to eventual champs Ohio State in the semifinals.
Out of the Southeastern Conference (SEC), largely thought to be the strongest conference in Division I-A football, Alabama's 13-1 campaign and 38-0 dismantling of Michigan State in the Cotton Bowl has led bookmakers in Las Vegas to declare Saban's team the favorite for next Monday night's showdown in the desert.
Alabama is between a 6.5 and 7-point favorite among the major sportsbooks including Westgate, MGM, and William Hill.
Offense vs. Defense
The old adage when it comes to football is that defense wins games, which is perhaps why Alabama is the favorite out of the blocks. The Crimson Tide enters as the third-ranked overall defense in the country compared to Clemson at #18.
However, Clemson's high-powered offense is the sixth-most productive operation averaging over 38 points and more than 500 years per game.
Alabama is 35th in total offense, but they come with a not-so-secret weapon. Running back Derrick Henry led the country with 1,986 rushing yards during the regular season as he ran away with winning the 2015 Heisman Trophy.
The Tigers will rely on Deshaun Watson, their star quarterback who completes over 68 percent of his passes. Watson holds a passer rating of 155.9 with 3,699 yards and 31 touchdowns on just 12 interceptions.
No Respect for Clemson
Heading into the CFP semifinals, Clemson struggled to find good favor among odds makers. Lines in Las Vegas predicted the Tigers would fall to #4 Oklahoma in the Orange Bowl on Christmas Eve.
Clemson won convincingly 37-17.
Now the team coached by Dabo Swinney finds itself in a similar predicament. Swinney, an Alabama alumnus who began his coaching career at his alma mater, understands why his undefeated program might still be considered an underdog.
"They're (Alabama) by far clearly the best that we've seen," Swinney said during a press conference this week. "They're as good as it gets in the country, number one in about everything defensively."
Watson isn't intimidated of the Alabama defense. "We have a great rushing game and a great passing game… It doesn't really matter what the defense does," the sophomore said.
"Clemsoning" is a term that originated over the years for disappointing and seemingly lackluster performances on part of the Clemson football team. In 2015, the Tigers barely beat an unranked Louisville, NC State and South Carolina, three teams that collectively went 14-23 in 2015.
"We haven't lost to an unranked opponent since 2011, but I have to come to a press conference in 2015 and get asked that?" Swinney questioned in October.
Swinney might not be worried about his team "Clemsoning," but for now, Vegas is.