Everyone loves happy hour – whether it be at a bar, restaurant, or online casino. Yes, even online casinos have gotten in on the happy hour action. The good thing about celebrating at Silver Oak is that you get all the joy and savings, with none of the hangover. It's a win-win.

Enjoy a stiff glass of free cash!
Every day you can get the online casino's Happy Hour Bonus of 150% on your regular deposits BUT if you deposit between 10 PM and 12 AM, your deposit bonus will skyrocket up to a crazy 200%.
It's casino promotion-o-clock somewhere in the world right now – so start celebrating.
This is how the promotional offer works: enter Silver Oak's online casino at any time of the day, any day   of the week, and receive a 150% match bonus when you deposit $100 or more. Just claim bonus code: HAPPYHOUR.
But if you claim the bonus code between 10 PM and 12 AM EST, simply contact the casino and the friendly staff will credit you with an additional 50%, boosting your total bonus amount to 200%!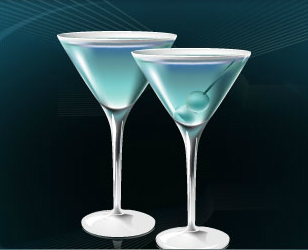 It's just like getting a double for the price of a single. I'll have cash, on the rocks please.
Why not use your happy hour bonus on a hand of Tri Card Poker? This card game has three ways for you to win: standard play payouts, Ante bonuses, and Pairs Plus payouts.
Tri-Card Poker is played between you and the Dealer with a standard 52-card deck. There are two betting schemes offered in the game: standard play and Pair Plus. The object of the standard game is to hold a higher hand than the Dealer. The object of Pair Plus is to bet that you will be dealt a hand with a pair of matching cards or a higher valued set, such as a Straight or Flush. You can choose to bet on one or both betting schemes in each round of play. The bets do not have to be the same.
You Win When
Your Tri-Card Poker hand outranks the Dealer's hand, or if you Raise and the Dealer does not qualify because they don't have at least a Queen. You win the Pair Plus if you are dealt a pair or higher.
Standard Play Hand Ranks
Straight Flush
Three-of-a-Kind
Straight
Pairs Plus Hand Ranks
Straight Flush
Three-of-a-Kind
Straight
Flush
One Pair
Game Features and Bonus Rounds
Ante Bonus
If you are dealt a straight or better, you win an Ante bonus.
Ante Bonus Pay Table
Straight Flush pays out 5:1
3 of a Kind pays out 4:1
Straight pays out 1:1
Pair Plus Bonus
The Pair Plus is won if your hand has a pair or higher. The Pair Plus wager is a separate wager that is not measured against the Dealer's hand — it is paid out based on the rank of the hand dealt.
Pair Plus Pay Table
Straight Flush is highest valued hand, paying out 40:1
Three-of-a-Kind pays out 30:1
Straight pays out 6:1
Flush pays out 4:1
One Pair pays out 1:1
Anytime is winning time at Silver Oak. Open your real money account today and see for yourself.
Summary

Article Name
Description
Everyone loves happy hour, and now it's arrived at your favorite online casinos!
Author